Environmentally Conscious Hair Care: Solid shampoo / solid hair soap
They are considered the number one trash trap in our bathrooms: almost everything we need in the shower for our hair and body care is packed in plastic. Several kilograms of packaging waste accumulate every year. Almost everything we need in the shower for our hair and body care is packed in plastic. Now alternatives are so simple. Like Jolu solid shampoo / solid hair soap: easy to use, caring for the hair and in an environmentally friendly packaging. Solid shampoo or solid hair soap is also much more concentrated and productive, which means: The price-performance ratio is many times more favourable than conventional plastic-wrapped hair care products. Liquid shampoo is easy to use in excess. In addition, the ingredients are often environmentally harmful, with silicones being the keyword. Environmentally conscious hair care is particularly easy with the solid shampoos / solid hair soap from Jolu. Our products are easy to use, ensure beautiful, manageable hair and protect the environment.
1
to
7
(from a total of
7
)
Solid hair soap: What is solid shampoo?
Solid Shampoo looks and feels the same as classic soap. It is very easy to use, is economical and does not contain any silicone or synthetic preservatives. Jolu uses high-quality raw materials in its solid hair shampoos. This includes plant extracts and nourishing oils. Our hair soap does not contain any artificial ingredients or dyes. In Jolu solid hair soap, high-quality oilsform a unique combination with delicate fragrances.
Jolu solid shampoo is packaged in an environmentally friendly cardboard box and can be stored in a sachet in the shower. So the solid shampoo doesn't need any plastic packaging at all, is good for the environment and of course good for the hair. Jolu solid shampoo ensures smooth hair and volume. Solid hair soap lasts significantly longer than conventional shampoo bottles and is, therefore, an active contribution to avoiding waste in the bathroom.
HOW CAN SOLID SHAMPOO BE USED?
The solid hair soap is simply foamed underwater and distributed in the hair like normal shampoo. After washing, the solid hair soap is simply rinsed out again with clear water. Lathering with our solid shampoos also works well when the soap is massaged directly into the hair. Our solid hair soap ensures soft and straight hair. The hair is easy to comb through after washing. Jolu solid shampoo is an ideal combination of cleaning and care. The hair falls well and voluminously after washing. They do not grease unusually quickly and make the scalp feel good.
WHAT BENEFITS FOR PEOPLE AND THE ENVIRONMENT ARE ASSOCIATED WITH SOLID HAIR SOAP?
Those who use solid hair soap or solid shampoo protect the environment by avoiding packaging and using environmentally friendly ingredients. This is what the name Jolu stands for.
Jolu solid hair soap / solid shampoo is certified according to the ICADA seal for natural cosmetics. What does that mean? The ICADA is an international association for preparative and apparatus-based cosmetics, which looks after around 90 percent of European cosmetics companies. Cosmetic chemists, natural product chemists, dermatologists, lawyers and toxicologists test products here for their environmental compatibility. In addition, it is a lobby for companies in the field of natural cosmetics. The association launched the first global standard for organic and natural cosmetics and awards a premium label for organic and natural cosmetics. It works according to a double-check system and is therefore considered to be particularly strict and reliable. The ICADA seal is only awarded to products that get by with relatively few additives, are close to nature, and are typically sold at low cost by medium-sized or small natural cosmetics companies.
With the solid hair soap from Jolu's shampoo bars, you can save at least six plastic bottles of shampoo per year. Jolu solid hair shampoos do not need any plastic packaging and achieve the same cleaning and nourishing effect as conventional liquid shampoos. Hair and scalp only come into contact with foam when using solid hair soap. In this way, skin irritation through direct contact with the scalp can be avoided. Solid hair soap is, therefore, easier to tolerate. Jolu Shampoo Bars are economical and can be used up to 50 times.
SOLID SHAMPOO: NO LONGER AN ECO-NICHE PRODUCT
Just a few years ago, solid shampoos were considered a niche product for real eco-activists. In the meantime, natural and environmentally conscious personal hygiene and hair care are important for many people. This is shown not least by the fact that the large drugstore and retail chains have added solid shampoos to their range. Compared to classic shampoos, Jolu solid hair soap and solid hair shampoo contain fewer preservatives and are packed in environmentally friendly cardboard boxes. Many customers appreciate the good price-performance ratio: The solid shampoos last longer, about as long as three shampoo bottles.
TIPS AND TRICKS FOR USING WHEN SWITCHING TO SOLID SHAMPOO
Switching to solid shampoo or solid hair soap is worthwhile for many reasons: It is environmentally friendly because there is no plastic packaging. It is practical and space-saving because the small can with the solid shampoo takes up less space compared to the bottle. For smaller trips, even just a piece of solid shampoo is ideal for the travel bag. Leaving was yesterday and when travelling by air there are no queries about safety concerns due to liquids.
Solid shampoo is economical and is gentle on the hair because it does not contain any silicones or questionable ingredients - without chemicals and plasticizers. This is easy on the scalp.
Switch to solid shampoo is very simple: there is no need for a transition phase. When the shampoo bottle is empty, it is simply replaced with Jolu solid hair soap from the shampoo bar. The solid shampoo can be stored in a small bag in the shower and is always ready for use when the hair is washed. We recommend letting the solid hair soap or hair shampoo dry thoroughly at regular intervals so that it does not become sticky or lose its consistency. Otherwise, there is not much to consider when switching to our environmentally friendly hair care. Simply soap your hair, rinse and you're done.
BRITTLE HAIR IS A THING OF THE PAST - JOLU FIRM HAIR SOAP TAKES CARE OF YOUR HAIR
Jolu Shampoo Bars are more than just solid shampoo. They care for the hair and make it easy to comb because the conditioner is included. This is due to the mild, powdery surfactants, plant extracts and nourishing oils in the Jolu solid hair soap. We use only high-quality raw materials in our products and do not use any artificial ingredients or dyes This is environmentally conscious hair care that benefits people and the environment at the same time. Valuable oils and natural aromatic substances are used in shampoo bars. They are available in three different fragrances and cater to different care focuses.
CURRENT ARTICLES
17.06.2021
Solid hair soap is becoming very popular because many people want sustainable care that is good for their skin and hair and is also good for the environment. In addition, many people are allergic to conventional shampoos, as they often contain allergens that can cause itching.
Continue reading
---
16.06.2021
Avoiding plastic products in the bathroom is becoming increasingly easy with the growing popularity of solid shampoos. And not only that: the natural and high-quality ingredients of Jolu's organic solid shampoo gently cleanse and care for hair and scalp without irritating them.
Continue reading
---
08.03.2021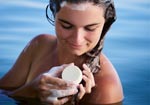 Environmentally friendly cosmetics and conscious care can be so easy, for example with solid shampoo. Why is sustainable body care important?
Continue reading
---
10.01.2021
Sustainable and plastic-free hair care with solid shampoo is trendy. It is not for nothing that large drugstores have adjusted their range to meet the demand for environmentally conscious products.
Continue reading
---
05.11.2020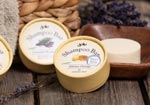 Ökotest gives a clear verdict: Most of the solid shampoos tested by the magazine score "very good". This also includes the solid shampoo from Jolu Naturkosmetik.
Continue reading
---
30.09.2020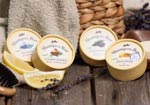 Solid shampoo, hair care bar, shampoo bar: These names stand for an environmentally friendly alternative to conventional liquid shampoos. This form of shampoo looks like a bar of soap but is different from the classic hair soap.
Continue reading