Natural conditioner for long hair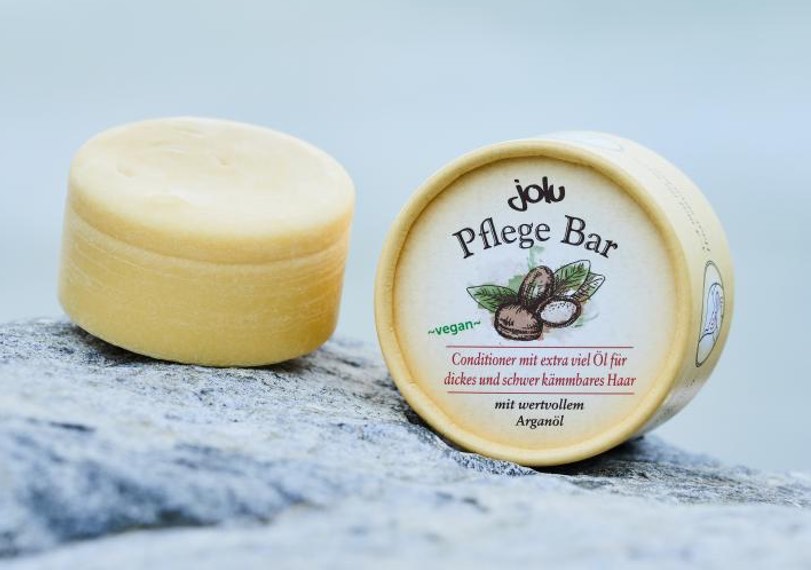 For long hair, there is an alternative to conditioner in plastic bottles - font>Natural hair care
An increasing number of consumers are developing an awareness of environmentally conscious body care. There is also a sustainable and environmentally conscious alternative to plastic bottles: solid hair care. This is a classic conditioner, especially for long hair, that does not require plastic or environmentally harmful ingredients. These environmentally friendly care products include, for example, the solid hair care from the care bar by Jolu Naturkosmetik. "Just a few years ago, people laughed at you as an eco-freak if you relied on environmentally friendly products like hair soaps for your hair care or body care. In the meantime, large drugstores sell plastic- and petroleum-free care products. So the idea of environmentally friendly body care is meeting with great acceptance among the general population," assesses Carina Benkert, Managing Director of Jolu Naturkosmetik.
Solid hair care as a plastic- and petroleum-free alternative
So even when it comes to "hair care with conditioner and rinse", consumers today can turn to a plastic-free and resource-saving alternative. The products from the Jolu Hair Care Bar are specifically aimed at the care of long hair. The application is very simple: The natural conditioner, which looks like a soap, is moistened and spread over the wet hair. The hair care is applied from the middle to the end of the hair. Like the classic conditioner, it should be left on for a short time. The care product is then rinsed out.
Natural hair care with solid conditioner
A product example from the Care Bar: The Jolu Conditioner for thick and heavy long hair aims at special care. It contains a conditioner and a natural emulsifier that makes long hair supple and has an antistatic effect. Glycerin and argan oil provide moisture to the hair. In combination with corn starch, the hair becomes supple. A strong hair structure is thus promoted. The hair becomes supple, shiny and voluminous after using the solid conditioner. Lemon and orange oils provide a pleasant fragrance.