Natural body care: shower soap / solid shower gel
Sustainable, natural and environmentally conscious: These topics are becoming increasingly important in the way we design our lives. Especially in the bathroom, unnecessary plastic packaging waste often accumulates, which can easily be avoided by switching to ecological care products. Solid shower soap / solid shower gel from Jolu is a plastic-free, natural alternative to conventional shower gel that offers many advantages. Because with solid shower soap, unnecessary plastic waste in the bathroom is avoided. On the other hand, the pollution of the skin and wastewater with harmful substances and microplastic particles can be reduced and a lasting, natural cleaning and care effect can be achieved. The solid shower soap/shower gel from Jolu is easy to use, suitable for all skin types and offers a relaxing, foamy shower experience just as relaxing as conventional shower gels. Modern body care starts in the shower and is easier than ever before.
1
to
9
(from a total of
9
)
What is shower soap / solid shower gel?
Shower soap may look like soap and its name may remind you of soap, but it has little in common with the classic body soap. This is because while body soap is made by boiling fats with a lye in a cold process, shower soap / solid shower gel contains the same ingredients as a liquid shower gel. To produce it, only the moisture is extracted from the liquid shower gel, and in the end, the product is pressed into a bar, which at Jolu is simply packed plastic-free in an environmentally friendly cardboard box. Shower soap / solid shower gel is therefore just as easy to lather up as the liquid version and contains all the ingredients for gentle, sustainable and natural body care that does not irritate or dry out the skin. As the products from the Jolu Shower Bar are highly concentrated, they are particularly productive and last longer than conventional liquid shower products.
How do I use shower soap / solid shower gel correctly?
The handling of Jolu Shower Bar Soaps is uncomplicated and hardly differs from the application of liquid shower gel: Instead of squeezing the gel out of the tube, the shower soap / solid shower gel is simply lathered up between the hands and then spread over the body. Of course, the solid shower soap/shower gel can also be rubbed directly over the body for nourishing cleansing. At the end, the solid shower gel is simply rinsed off like a liquid shower gel. The skin feels soft and gentle after the shower experience. A refreshing fragrance remains on the skin. It ensures that the pleasant feeling of natural care lasts for a long time.
How do I store solid shower gel/shower soap properly?
Jolu solid shower gel comes in an environmentally friendly, plastic-free cardboard container that is dimensionally stable and moisture resistant. Plastic waste in the bathroom or microplastic particles on the skin and in waste water are now a thing of the past. When stored correctly, Jolu shower soap / solid shower gel is more productive than liquid alternatives and replaces about 1-1.5 liters of liquid shower gel. To be able to use Jolu shower soap for a long time, it should be stored in the shower in such a way that it is not exposed to permanent moisture. There are several alternatives for this. Jolu solid shower gel/shower soap can be stored in a small soap bag that is hung up in the shower so that it can always dry well. When cleansing the body, the Dusch Bar body soaps can also be moistened directly in the soap bag and rubbed over the skin. This guarantees a pleasant peeling effect in addition to cleansing. Of course, Jolu solid shower gel can be stored in a soap container. Just make sure that the water can drain off well from the container so that the shower soap also dries from below after use. Jolu solid shower gel/shower soap is also an ideal companion when traveling: compared to conventional shower gel, the shower bar products take up less space in the travel bag and can be carried in hand luggage during air travel without fear of being questioned about liquids at security checks.
What ingredients does solid shower gel/shower soap contain?
Jolu solid shower gel/shower soap is more skin-friendly than conventional body soap and consists of purely natural ingredients that guarantee high-quality body care and a relaxed and skin-friendly cleansing ritual for all skin types. Cleansing and nourishing ingredients such as lava clay, Himalayan salt and argan oil bind dirt particles and excess oil. They also ensure particularly gentle body care. In the process, the pH value of the skin is gently regulated and it is provided with additional moisture, which gives it a soft sheen at the end of cleansing. For optimal compatibility, we use natural perfumes that consist of essential oils or do not add perfumes at all. Natural essential oils that are gentle on the skin bring refreshing or gentle scents such as grapefruit, orange or lavender to the solid shower gels. All products are completely vegan, so they do not contain any animal ingredients. Of course, the development and manufacturing process is also completely free of animal testing.
Is Jolu solid shower gel/shower soap suitable for me?
All our solid shower soaps carry the ICADA seal, which stands for sustainable, resource-conserving organic and natural cosmetics. Products certified by the international cosmetics association ICADA must not contain any silicones, parabens, mineral oil products or synthetic fragrances, for example, and must be packaged in an environmentally friendly way. The ICADA seal is reserved for companies whose corporate philosophy is consistently oriented towards the conservation of nature and resources. At Jolu, we have been committed to this since the beginning of our business activities. The shower bars from Jolu are available in several variants and fragrances. Whether for women, for men, for sensitive skin, for demanding skin, for oily skin or for dry skin: the individual composition of our solid shower gels and their easy and simple application guarantee modern, foamy, sustainable body care that also protects the environment. There is a suitable product for every skin type in the shower bars.
CURRENT ARTICLES
17.06.2021
Gentle body care without plastic packaging: The solid shower soap by Jolu is a natural and particularly sustainable alternative to conventional shower gel. Enriched with nourishing and gently cleansing ingredients, the soap is suitable for all skin types and lathers just as well as other shower gels.
Continue reading
---
08.03.2021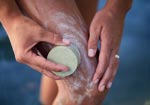 Solid shower gel and shower soap are simple ways to avoid microplastics in the bathroom. Even if many consumers are already relying on environmentally conscious personal hygiene, the reality is still different.
Continue reading
---
15.01.2021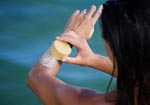 Like hardly any other company, Jolu Naturkosmetik combines the idea of ​​sustainability with social entrepreneurship: physically disadvantaged people work on the production of the solid shower gel from Jolu.
Continue reading
---
09.11.2020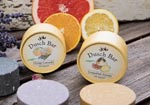 Who does not know this: The frequent use of conventional soaps easily dries out the skin. Sometimes it becomes brittle and cracked. The situation is different with the modern solid shower gel, which, like the other products from the shower bar by Jolu Naturkosmetik, has a low pH value and gently cares for the skin while washing.
Continue reading
---
01.10.2020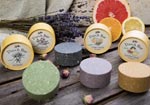 Saving resources and keeping the sea and air clean - these demands can be supported by not using plastic. Solid shower gel is ideal for body hygiene.
Continue reading