Natural hair care protects the environment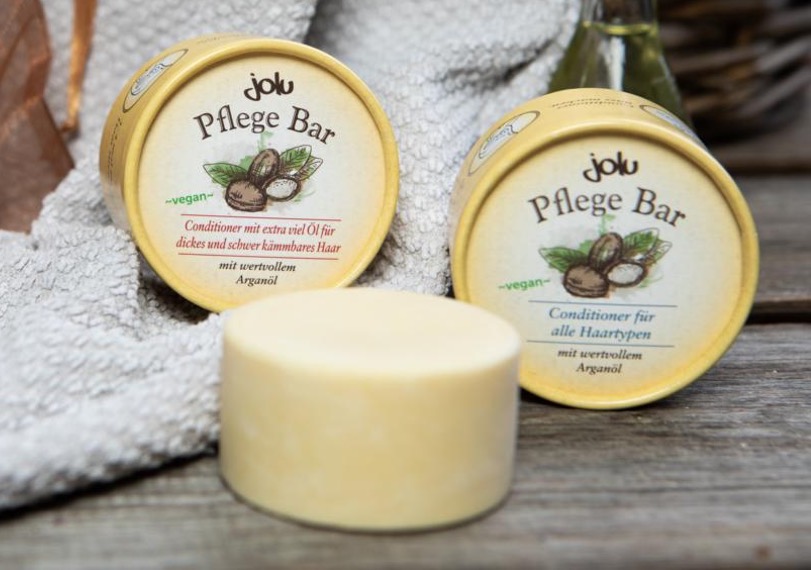 Solid conditioner for long hair as an alternative to conditioner in plastic bottles
Environmentally conscious consumers are increasingly looking for natural and sustainable cosmetics that are free of unnecessary packaging waste and irritating ingredients. A popular alternative to conventional conditioners and conditioners in plastic bottles is natural hair care in solid form. The compact and practical conditioner bar cares for the hair just as effectively and is also - depending on the product and manufacturer - free of silicones, microplastics and artificial fragrances and preservatives. A great side effect: natural hair care or solid hair conditioner is packaged by many manufacturers in environmentally friendly, sustainable tins or boxes. The conditioner bar from Jolu Naturkosmetik, for example, is stored in a recyclable cardboard box. Another aspect of sustainability: natural hair care is much more productive than hair care products in bottles and can be used over a longer period of time.
Natural hair care with selected ingredients
If you want to be on the safe side when caring for your long hair with a view to sustainability, natural hair care is very well advised. Many products are manufactured by natural cosmetics companies that rely on high-quality and natural ingredients. For example, the products from the conditioner bar by Jolu contain argan oil for easy combing, vegetable glycerine and essential oils for a pleasant scent. Natural hair care in the form of conditioner bars is now in such high demand that they are not only available in organic shops and on the internet, such as the Jolu natural cosmetics online shop, but can also be purchased in natural drugstores.
Natural hair care is easy to use
Switching from a conventional conditioner or conditioner to natural hair care or solid hair conditioner is quite easy: The conditioner bar is moistened in the hand and then gently massaged in from the middle of the hair to the end. It can also be spread over damp hair. After application to the hair, the care product should be left to work in for a short time. Afterwards, the solid hair care is washed out thoroughly. Certificates that confirm the product's dermatological safety and sustainability are important indicators of the quality of solid, natural hair care. The products from the Jolu conditioner Bar, are certified with the ICADA seal and have been extensively tested.