Solid shampoo: The alternative to plastic in the bathroom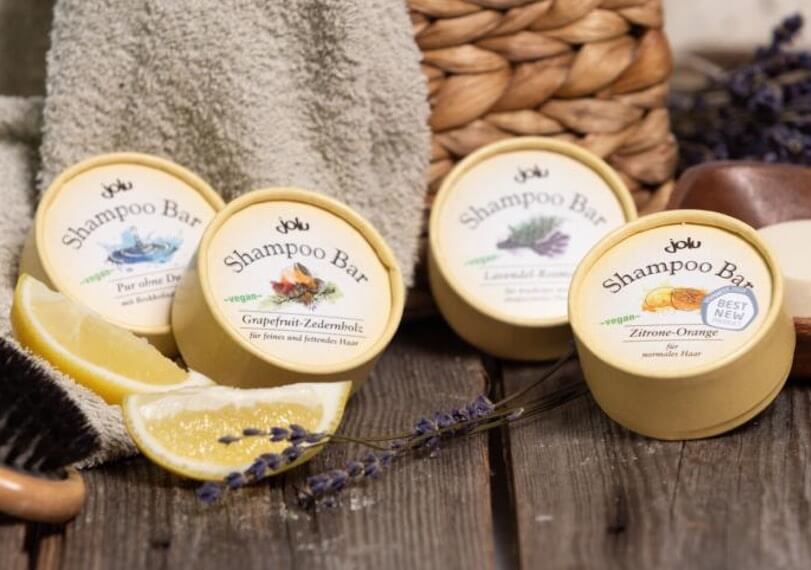 Solid shampoo: naturally well-groomed hair without unnecessary plastic waste
Solid shampoo , conditioner bar, shampoo bar: These names stand for an environmentally friendly alternative to conventional liquid shampoos. This form of shampoo looks like a bar of soap but is different from the classic hair soap. In contrast to soap, solid shampoo is neither alkaline nor alkaline. Hair soap can therefore make hair brittle. With regard to the ingredients, shampoo bars such as the products from Jolu Naturkosmetik are specially formulated for the cleansing care of hair. Shampoos in solid form are suitable for those who choose their body care products wisely. Certifications such as the ICADA seal help in the selection process to find high-quality and sustainably produced shampoos. Shampoo bars can easily be made vegan. Therefore, for shoppers who prefer vegan personal care products, there is a wide range of suitable solid shampoos.
Solid shampoo: these are the benefits of plastic-free hair washing
The most well-known benefit of shampoo bars is the reduction of plastic waste. On average, six plastic bottles can be saved annually with consistent use of solid shampoos. Many of the solid products for shampooing also protect the environment in terms of their composition. Harmful ingredients are not necessary for beautiful hair. Natural oils and plant extracts cleanse the hair and give the solid shampoo a pleasant scent. Solid shampoos without fragrances, such as Shampoo Bar Pur by Jolu, are suitable for allergy sufferers. Another advantage of solid shampoos is their yield. If used correctly, one piece of shampoo is enough for about 50 applications.
Which hair type is solid shampoo suitable for?
In principle, all hair types can be cleaned just as well with a solid shampoo as with a liquid one. Manufacturers of high-quality solid shampoos such as Jolu Naturkosmetik offer a wide selection to meet individual customer needs and preferences. There are products for hair that greases quickly, normal or fine hair. Everyone can choose their favorite scent from the herbs and oil scents.
In addition to solid shampoos, there are also solid alternatives to liquid conditioners. These hair carebars, also known as fixed hair conditioners, are primarily intended for long hair. After shampooing, they can be used in the same way as conventional hair care products in plastic packaging.