Solid shower gel: Natural body care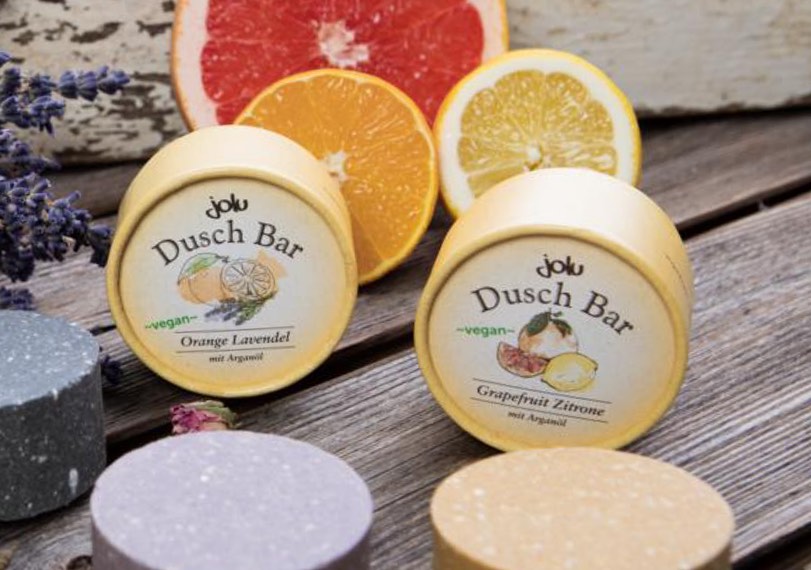 No plastic in the bathroom and gentle skin care included: solid shower gel as an alternative
Who hasn't experienced this: The frequent use of conventional soaps easily dries out the skin. Sometimes it becomes brittle and cracked. The situation is different with the modern solid shower gel, which, like the other products from the shower bar by Jolu Naturkosmetik, has a low pH value and gently cares for the skin while washing. "Our products are particularly suitable for natural, environmentally conscious body care. We do not use any environmentally harmful ingredients or plastic packaging," emphasizes Carina Benkert, Managing Director of Jolu Naturkosmetik. The solid shower gel from Jolu is used like a soap. However, it is not about classic soap, but shower gels from which water has been removed. This creates a concentrate that is more productive and has a longer shelf life than liquid shower gel.
Solid shower gel does not contain any environmentally harmful ingredients
Natural and purely plant-based ingredients - these are the essential ingredients that Jolu Naturkosmetik uses for its solid shower gels. In addition, natural oils aim to care for the skin. Extracts from fruits or plants such as lemon or lavender provide a pleasant fragrance, the essential oils of which have a refreshing or invigorating effect on the body. The natural cosmetics manufacturer uses plant extracts to regulate the moisture balance. Environmentally harmful ingredients such as silicones, parabens, paraffins or petroleum-based products are completely excluded. "Our passion is natural and resource-saving body care. Our solid shower gel is an excellent example of this, "Carina Benkert is convinced.
Application tips for solid shower gel
The products from the Jolu shower bar are delivered in a cardboard box. The idea of ​​environmentally friendly and natural body hygiene runs as a guiding principle through the product design - from the packaging to the application. This can be done by storing them in a soap bag or a soap dish, in which the water can drain off easily. So that the solid shower gel lasts for a long time, it should be able to dry out after showering. Alternatively, the solid shower gel can be rubbed onto the skin. The Jolu shower bar is simply moistened in the shower and spread on the skin. "In principle, they are used like a classic soap," explains Carina Benkert. How can solid shower gels be used?