Shower soap: plastic-free alternative in personal hygiene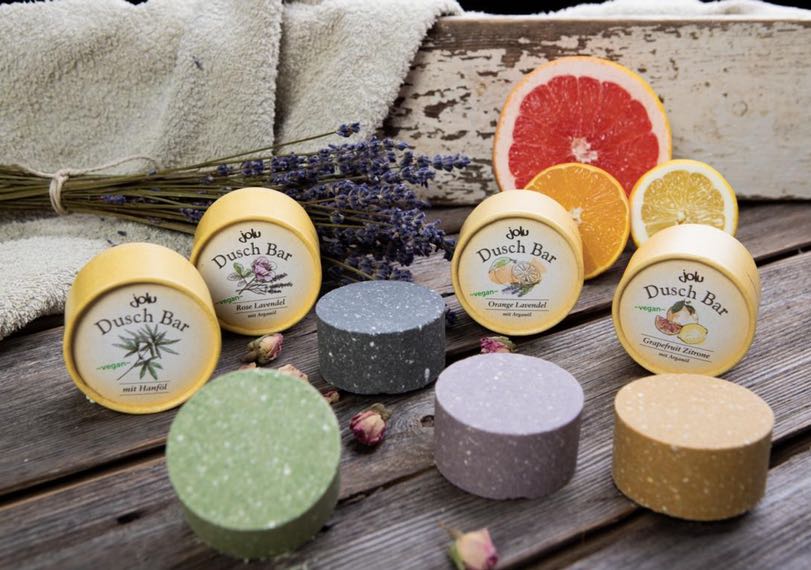 Solid Shower soap makes body care sustainable
Gentle body care without plastic packaging: the
Dusch Bar (Shower Bar - solid shower gel)
from Jolu is a natural and particularly sustainable alternative to conventional shower gel. Enriched with nourishing and gently cleansing ingredients, the bar is suitable for all skin types and lathers just as well as other shower gels. The shower bars from Jolu Naturkosmetik last for up to 50 applications and are therefore much more economical than shower gel in plastic bottles. At the same time, a lot of packaging waste in the bathroom is avoided, as the solid soap is packed in small cardboard boxes. These can be recycled after use.
Shower soap cares with high-quality ingredients
The
Dusch Bar (Shower Bar - solid shower gel)
from Jolu Naturkosmetik not only avoids plastic waste in the bathroom, but also convinces with its selected, natural ingredients. High-quality organic argan oil cares for the skin while showering, giving it a particularly soft skin feeling and lots of moisture. Himalayan salt and healing clay are further ingredients contained in the solid shower bar that provides all-round care for the skin. In addition, natural tensides ensure thorough and gentle cleansing of the body. So that the skin is not unnecessarily irritated, Jolu Naturkosmetik does not use artificial additives such as fragrances and colorants. The soap is also free of microplastic particles.
How to use the shower soap correctly
Using the shower bar is very simple: First, lightly moisten the skin in the shower and gently rub the bar over the body without pressing it on firmly. After lathering up and thoroughly cleansing, rinse the foam off the body thoroughly. Tip: To prevent the bar from breaking, it is recommended to store it in a dry place after use. It is best stored in a soap dish with holes or in an organza bag. Thanks to its small size, the shower soap is perfect for traveling as it takes up little space.